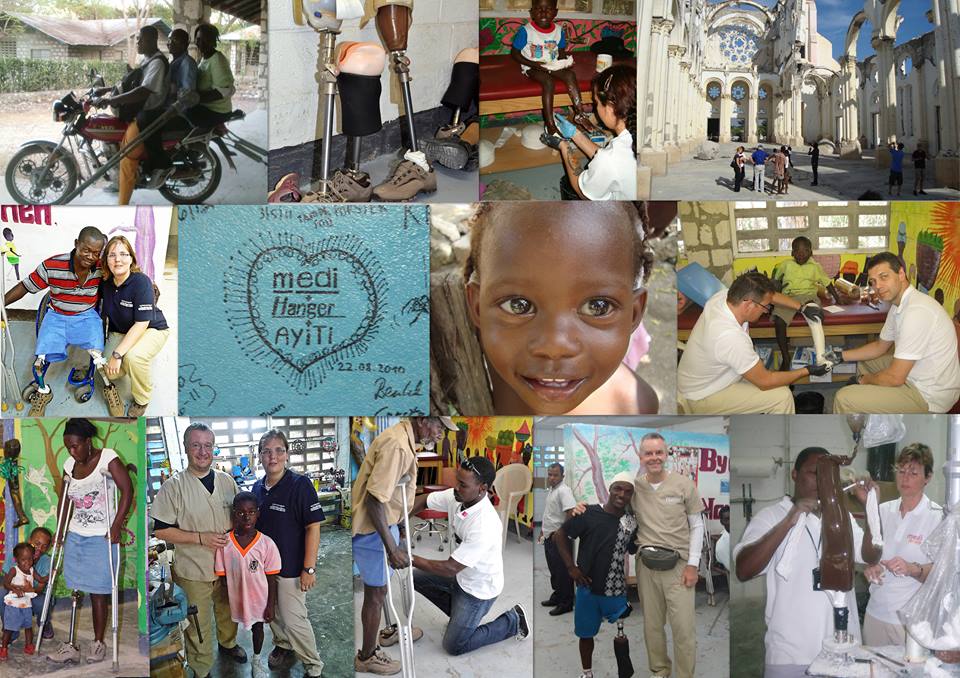 Five years of disaster relief from Bayreuth
"medi for help" is still supplying medical devices for earthquake victims in Haiti to this day.
medi, a manufacturer of medical devices with its headquarters in Bayreuth, started the medi for help project to provide acute help directly after the earthquake in Haiti in January 2010. The aim: to help the victims of the quake quickly and unbureaucratically, and to provide lower limb prostheses for the needy. Over 4,500 patients have been treated to date.
The catastrophe hit Haiti on 12 January 2010. At 16:53 local time the earth shook with an intensity of 7.0. The earthquake lasted one minute but cost over 200,000 people their lives. Over 300,000 were injured, some of them severely, and about 1.3 million lost their homes. The images of the devastation travelled around the world.
Carsten Stauf is the man who has been accompanying the relief project from the very outset. The master CPO and project leader of medi for help looks back at the beginnings. "Our mission started in February 2010, when a prosthetic rehabilitation centre was built in Deschapelles around 80 kilometres north-west of the capital Port-au-Prince. Treatment at this centre was free of charge for Haitian leg amputees. medi for help co-operated very closely with the local Hôpital Albert Schweitzer and the American Hanger Ivan R. Sabel Foundation". He flies to Haiti two to three times a year to make lower limb prostheses himself and to see how the help is put into practice on site. "I can hardly find the words to describe what I see there each time. Many of the people who come to our centre have little hope of a better life because of their amputation. Every time they take their first faltering steps with their prosthesis and the smile returns to their face is a deeply moving feeling", reports Carsten Stauf.
Our range of activities keeps growing
medi for help's commitment has grown over the years. While the majority of those cared for until 2012 received leg prostheses, treatment has since expanded to include traumatic and orthopaedic cases for the neighbouring Hôpital Albert Schweitzer. "While the number of first-time provisions for patients who lost their legs in the earthquake in 2010 has fallen, the number of follow-up cases is increasing. You must also remember that we treat many children and teenagers who grow out of their prostheses, or modular components get broken. We have to repair and modify these regularly. Add to these the many victims of road traffic accidents and people who have to have legs amputated because of diabetes", explains Carsten Stauf. medi for help has improved the administrative and logistic structures to help cope with the broad range of activities. The essential prerequisite for this was the conversion of the erstwhile spontaneous relief project into a charitable PLC. This provides a formal and transparent platform for our partners and sponsors who support medi for help with their donations. The investments that have been made to date show that the support ends up where it is needed. This includes, for example, buying a SUV that makes it possible to transport and care for patients in the catchment area around Deschapelles. A second workshop has also been built and put into operation in Port-au-Prince – a major relief for patients in the capital city. Due to the dreadful roads, they still need up to three hours to drive to Deschapelles.
Sustainable help for self-help
"The positive echo from the patients – but from our partners too – convinced us at an early stage to continue our activities in Haiti in the long term too", says Carsten Stauf. The volunteers, CPOs and master CPOs who work free of charge, play a decisive role in ensuring future care in Haiti. Together with medi for help USA, medi for help recruits these volunteers primarily in Germany, America, France and England. They provide their know-how free of charge for two to four weeks. During this time they make up plaster moulds, fabricate prostheses, and adjust prostheses and orthoses. The volunteers also accompany patients during their first attempts to walk, and prepare them for their new chapter in life with the medical devices. They are supported in this by indigenous technicians and the workshop manager who lives in Haiti for a year. Instruction and practical further training in fabricating prostheses is another, very important, part of the volunteers' work. "At the moment we employ four Haitian technicians in Deschapelles and three in Port-au-Prince. It's quite amazing what the lads can produce in the workshops", says Carsten Stauf. To make sure that theoretical education, for example in anatomy, pathology or diagnosis is guaranteed, medi for help supports the technicians in various further training measures. "But our objectives go further than that, we want to offer them interactive training in a "virtual classroom". For instance, this would enable them to watch teaching videos, communicate with lecturers, and take examinations", says Stauf. The concept is already up and running, and we have already found a training partner. "We can start the training as soon as the funding has been secured. Because, despite all the differences between the way of life in Haiti and in Germany, a written certificate is still important in the Caribbean", says Carsten Stauf. All the information about the relief project can be found on the Internet at www.medi-for-help.com. The website contains up-to-date information and annual reports from medi for help as well as the diaries of the volunteers who give detailed descriptions of the help they actually provided in Haiti.